Manufacturing case studies
Mastering the balance of variable demand, multi-plant sourcing and keeping production moving.
Manufacturing case studies
Mastering the balance of variable demand, multi-plant sourcing and keeping production moving.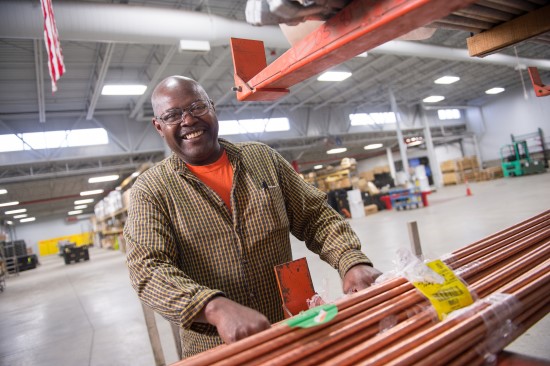 Case study #1
The client
A manufacturer of high-quality residential and commercial decor for more than 70 years, has entrusted Travero with long-haul logistics since 2002.

The challenge
As a relationship-focused organization, the client is committed to building trust with its associates and clients. Trust has also been a defining aspect of its relationship with Travero.
Read more
One of the ways we helped foster that trust early on was ensuring the client heard the same voices at the other end of the phone line, whether the call came on a Tuesday afternoon or a Saturday evening. Our logistics specialists provided not just anytime answers but a daily flow of communication and updates that included detailed reporting highlighting potential issues, helping to head off problems.

Working with long-tenured, attentive Travero specialists gave the client such peace of mind that they relied on our team to help smooth transitions on their own. As their new employees have come into the mix, the Travero team provided extra attention to ensure they were educated on and following the established processes to keep shipments moving as they should. When the client opened a new plant, we worked with them to devise optimal lanes and processes to make that move seamless.

Through commitment, trust, and expertise, Travero has grown to be an extension of the client's team.

The solution
Moving product across United States borders presents particular challenges and leverages wide-ranging relationships. The client relies on Travero to meet all requirements from each side of the border and to source carriers who will allow their trailers to be transported and loaded over multiple days across a border.

Our diligence at home and relationships across borders have facilitated transport without incident.

The numbers
20-year partnership
Multiple Travero team members supporting the partner's success
Several loads per month
Case study #2
The client
A manufacturer of plastic film for food packaging for retail and commercial uses. The client operates a plant that requires constant shipments of resin pellets to prepare its vital products.

The challenge
Communication is critical when a client's schedule is unpredictable. A significant portion of our value to this client comes from our ability to effectively respond and react to its shifting priorities.
Read more
The Travero team coordinates the client's warehousing and shipping needs. Internal teams are in close contact so we can be responsive to client needs that arise quickly; for example, a request may come in late Tuesday for a shipment that must be delivered Wednesday.
A typical day might include a last-in, first-out warehouse turn that moves raw materials out of Travero's warehouse for shipping to the client's manufacturing facility, or it may mean point-to-point shipping from the client's factory to another of its operations across the country. Sometimes, it might mean several regional runs requiring the services of a dedicated driver for a few days.

The solution
Quick action and effective communication make up the backbone of this client relationship. Our team oversees 30+ qualified and experienced carriers ready to handle whatever this specific client needs in any given week. Located on-site, in the office area of our 259,000 square-foot warehouse facility, the client's dedicated Travero logistics team has easy access to the inventory details and warehouse staff that keep the processes moving quickly and smoothly. The client also counts on the Travero team's attention to detail regarding invoices and bills of lading which are produced and sent back to the client within minutes.
Our commitment to this high level of service helps the client avoid production delays and related frustrations, allowing them to focus on what's most important – serving their customers. A worry-free relationship, that's the Travero promise.

The numbers
1-year partnership
An average of 2-3 loads per week
Travero is your strategic partner for freight brokerage, warehousing, rail freight, and barge terminal services. Whatever and whenever challenges present themselves, you'll always be speaking to a real expert dedicated to delivering results for you. At Travero, we don't just deliver goods. We deliver peace of mind.
Connect with our experts