Agricultural case study
Managing chemical, seed and animal feed shipments and warehousing under tight deadlines.
Agricultural case study
Managing chemical, seed and animal feed shipments and warehousing under tight deadlines.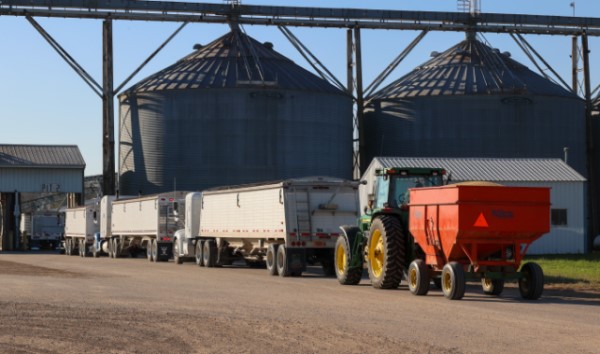 Case study #1
The client
A large animal feed ingredient company serving animal feed and pet food manufacturers across the continent.

The challenge
The company wanted to develop a new market and expand its service area into the upper Midwest. To achieve this, they knew they needed warehouse space and services conveniently located for efficient distribution.

Read more
The company was making bulk shipments with Logistics Park Dubuque (Travero's barge terminal facility on the Mississippi River in East Dubuque, IL), but they needed a more accessible and efficient way to transport smaller product shipments. They already had a carrier base in their home state and needed another partner close to the barge terminal to help keep their product moving.
After discussing their expansion goal with the Logistics Park Dubuque team, the discussion quickly pivoted to Travero's new food-grade-certified warehouse –Logistics Park Cedar Rapids.
The solution
Within weeks of a successful warehousing partnership, the company was eager to expand the relationship further to include the coordination of inbound and outbound shipments via truck with Travero's on-site team of expert freight brokers.
The company and Travero daily use collaborative documentation to schedule and track loads. The company now has one contact for trucking and warehousing. services, as both functions are under one roof at Travero. They benefit from a 'no fail' situation as Travero's warehouse and logistics teams talk daily, in person, thus eliminating errors. The company no longer has to deal with the stress (and expense) of managing multiple supply chain service providers and can focus on what truly matters to them – growing their business.

The numbers
2 year partnership
Average loads per week: 6
Case study #2
The client
A global agricultural chemical and seed company headquartered in the United States.

The challenge
For moving seed all over the Midwest, the client uses a bid process for six-month coverage at a time. Lanes are awarded based on a waterfall system that favors less expensive providers and continues through the list until the client's needs are met. A separate broker manages the process and awards lanes based purely on the numbers, meaning the relationship element matters much less than coming in with the right bid.
Read more
The client also operates heavily on the spot market, opening 5-10 runs per hour for bids. Keeping up with the market, managing our capabilities, and keeping a close eye on the market are essential for serving the client. We maintain constant coverage with a dedicated representative and several backup reps.

The solution
Managing the client's busy season, which runs from October to February, means handling almost twice the number of loads across 15-20 Midwestern states. Because we're one of several providers bidding on any given load, keeping a close eye on market fluctuations is key to winning the work in this numbers game.
But even in a numbers game, service matters. We know the client likes us to problem-solve on their behalf when things go sideways, for instance, and to be updated after the fact rather than pulled into each challenge.
We also know that having reliable technology is essential to maintaining the vigilance this business arrangement requires. We use a web-based tracking application to ensure our team has the correct data at any given moment.
We're confident of our service, and the software enables us to be convinced of our bids, despite constant market fluctuations. With all the right pieces in place, we've grown the business steadily over our ten-year relationship and kept the client's products moving on time to help keep the nation's agribusiness thriving.
The numbers
10 year partnership
States served: 20
Bids won: Approximately 100 per week during the busy season
Travero is your strategic partner for freight brokerage, warehousing, rail freight, and barge terminal services. Whatever and whenever challenges present themselves, you'll always be speaking to a real expert dedicated to delivering results for you. At Travero, we don't just deliver goods. We deliver peace of mind.
Connect with our experts